METHODOLOGY
About Syrian Archive
Syrian Archive aims to support human rights investigators, advocates, media reporters, and journalists in their efforts to document human rights violations in Syria by developing new open source tools as well as providing a transparent and replicable methodology for collecting, preserving, verifying and investigating visual documentation in conflict areas.
Syrian Archive is a Mnemonic archive.
About the data
With this project, Syrian Archive presents a database of 410 documented attacks on medical facilities in Syria from 1 August 2011 to 25 February 2020. This database contains 41 GB of documentation.
This project required preserving and verifying 1,260 videos in addition to conducting in-depth, open source investigations into each of the 410 unique incidents.
This database has been made available to support justice and accountability for human rights violations and other serious crimes in Syria.
Number of videos
Sources of data
Medical facilities attacks
The sheer amount of content being created and the near constant removal of materials from public channels means that Syrian Archive is in a race against time to preserve this important documentation of crimes committed. Content preserved and verified by Syrian Archive might offer the only evidence to corroborate witness testimonies of attacks on medical facilities, and to implicate potential perpetrators.
While we strive to work with key tech platforms to restore important human rights documentation and evidentiary material, you may nevertheless come across broken links when searching this database.
It should be noted that this database under-represents the extent to which medical facilities have been targeted or otherwise damaged since 2011 in Syria. Syrian Archive includes in its databases only those incidents for which documentation has been identified and independently verified.
Further, while we have sought to be detailed and transparent in the presentation process, we have taken into account the need to protect documenters and the communities impacted by these attacks. Taking these interests seriously, some content we have deemed too sensitive for inclusion in the public database has been withheld to protect the security of our sources and their communities.
All documentation included in this database is independently verified and structured into a standardised and searchable data ontology. Additional descriptive information is provided to support the research of journalists, lawyers, human rights monitors and investigators for reporting, advocacy and accountability.
The location coordinates used to create any maps or map-based visuals included in this database and report are intentionally and randomly inaccurate and approximated. Some of the hospitals included in the database may still be in operation and are therefore potentially subject to future attacks.
About the research
Our new verified, searchable, and exportable casebuilding platform of documented attacks on hospitals and medical facilities in Syria over the last 10 years presents the most comprehensive publicly available database to date.
We utilised an innovative methodology, incorporating a variety of previously unused targeting indicators as proxies to determine intentionality, in an effort to uncover widespread and systematic attacks for deliberate harm and demonstrate strategies of attacking hospitals for military gain.
By creating a documentation-based database, conducting a thorough open source investigation for each identified incident, and organising resulting information in the way we did, we can establish in the aggregate what individual videos or testimonies cannot.
We can then use this organised and searchable database of detailed information to analyse patterns and trends.
Fundamentally, the database is structured around documented attacks against medical facilities, verified through careful examination of the open source, visual documentation preserved by Syrian Archive.
Tagging Guide
Alongside the verification process, Syrian Archive researchers investigated each incident (consisting of an alleged attack) to complete a 'tagging' process. During tagging, each incident, its corresponding video documentation, and other open source information were evaluated for certain characteristics of legal or otherwise contextually important significance.
Examples of tagged information include: whether there was a double tap airstrike, whether the medical facility was remotely located, and whether the medical facility had been established prior to the start of the conflict in 2011.
For detailed database definitions and research methodology, see the Tagging Guide.
Evaluating Information
A definitive tag was only assigned to an incident if available information met our chosen 'reasonable grounds to suspect' standard of information. In other words, each individual tag was assigned only if the researcher was convinced by the available information that there are reasonable grounds to suspect the tag is applicable or accurate.
Thus, among the TRUE, FALSE, and UNKNOWN options for whether an incident reflects a certain tag/characteristic, you will notice when reviewing the data and the Tagging Guide that UNKNOWN was a common and intentional default tag. The UNKNOWN tag may also be read as "UNESTABLISHED" or "INDETERMINABLE," depending on the specifics of the given incident and available information: it was assigned where the research team could not discover sufficient and corroborative information or where the available information was deemed insufficiently credible.
For this reason, you will also notice that some of the figures shared in the findings are prefaced by "at least." In these instances, while we can confirm a minimum number of occurrences for the characteristic or tag being discussed―for example, "at least 227 documented attacks against medical facilities were conducted by airstrike"―with more information the open-ended UNKNOWNs may become known and that number might rise.
Perpetrator Information
In particular, research and tagging related to perpetrator allegations were completed with care and caution. Researchers corroborated perpetrator allegations with discernable and confidently attributable characteristics of attack such as munition type or delivery method alongside other indicators like flight data, troop movements, attack location, and strategic clusters of attacks.
For example, given that only certain parties to the conflict over time have airstriking capabilities, the airstrike delivery method carries strong implications of culpability. Namely, only state armed forces are known to have manned airstrike capability.
Among these, flight observation data corroborates claims that the Syrian government and Russian forces are responsible for the overwhelming majority of airstrikes conducted in Syria. And again, for all documented attacks Syrian Archive evaluated the available information on alleged perpetrator(s) against the standard of information set out in our research methodology.
For 127 of the attacks in this database, then, available information did not meet this standard. These are labeled "Perpetrator Unknown." If multiple perpetrators were credibly alleged and a 'most reliable' allegation could not be determined, researchers selected "Perpetrator Contested."
For some analysis in the findings, the Syrian Archive team reached out to additional, trusted sources and researchers. In cases of alleged aerial bombings, Syrian Archive cross-referenced information from open sources with flight observation data from a spotter organisation, which documents sightings of warplanes by partner observers in cities throughout Syria. These observers collect data about the aircrafts such as the type of plane and the direction the plane is flying. Although there may be misidentifications of aircraft in the flight data, additional tagged information included in the database can corroborate the identified aircraft and its course.
Additional sources
For findings analysis relating to civilian populations, given the difficulties in counting population in Syria, the data collected by Syrian Archive is from a number of varied sources. A primary source for displacement data was from United Nations reports and estimates, as well as data obtained through Syrian response coordinators. The Assistance Coordination Unit, Martyr Documentation Office in Daraa, local city and neighbourhood councils, and websites online were also analysed to gather population and displacement data.
To determine facility areas of specialisation public sources such as media reports and United Nations reports were used. We also consulted official data from public releases from sources such as Médecins sans frontières, Amnesty International and others to confirm whether hospitals had been rendered out of service.
Confidence ratings
Each incident in the database has been assigned an overall Confidence Rating. This ratings system was created to give database users an evaluation of the discovered open source information for each incident, as a whole. The ratings themselves are assigned based on the robustness and quality of information available for each given Incident included in the database, relative to the other Incidents that have been visually documented, archived, and included in this thematic database.
Specifically, Confidence Ratings are assigned as follows: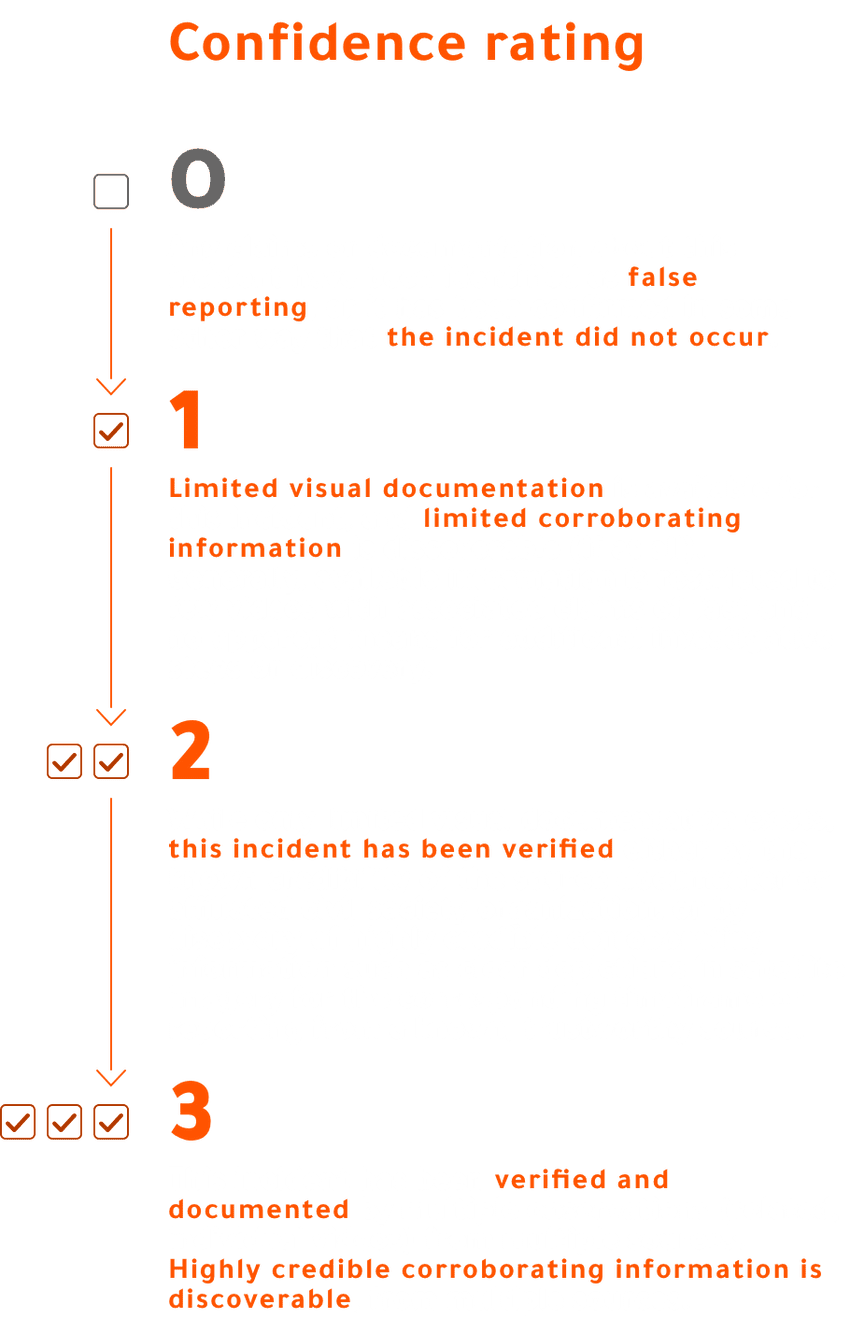 Errors, corrections & feedback
Syrian Archive strives for accuracy and transparency of process in our reporting and presentation. That said, the information publicly available for particular events can, at times, be limited. Our video datasets are therefore organically maintained, and represent our best present understanding of alleged incidents. If you have new information about a particular event, if you find an error in our work, or if you have concerns about the way we are reporting our data: please do engage with us. You can reach us at info [at] syrianarchive.org.
Acknowledgements
This collection would not be possible without the dedicated activists, journalists, and others who have documented and are still documenting grave crimes and human rights violations in Syria. Our work is only possible because they believe in accountability and justice for the terrible harms they witness.
Our sincere appreciation to Physicians for Human Rights for their important work over the years on mapping Illegal Attacks on Health Care in Syria. Our thanks also to the Syrian American Medical Society, Bellingcat, The New York Times Visual Investigations team, SiegeWatch, Security Force Monitor, and the Global Public Policy Institute.
We are grateful for the support of Aaron Kearney, Anita Gohdes, and Yvonne McDermott Rees, during the review process. Our thanks also to Ali Haj Suleiman for his photo contributions. Special thanks to our Syrian Archive interns―Benjamin Feldman, Nick Reincheld, and Sabrina Slipchenko―and our student contributors. Students from the Human Rights Investigations Lab at UC Berkeley helped with incident verification and tagging, including: Hannah Hartt, Ibrahim Khan, and AJ Schumann. Students from Amnesty International's Digital Verification Corps additionally helped with incident verification.
Syrian Archive Team
Al Jaloud, Carolyn Thompson, Hadi al Khatib, Haneen K., Hesham Moadamani, Jack Wolf, Jeff Deutch, Libby McAvoy, MA. Artino, Michael Elsanadi, Mustafa Abo Shams, Olivia Solis, Salma Amer, Sam Razzouk, Tareef M.